You deserve a better bathroom—whether it's through a quick touch up or a full remodel. Read our expert tips (and find out how our experts can help you) to a breezy bathroom renovation.
A new bathroom can be luxurious.
The bathroom renovation process…not so much.
Even the smallest powder room can incur high renovation costs, particularly if you are dealing with changing the floorplan or moving the plumbing. That explains why some people have baths that are stuck in the candy-pink '50s, the milk-glass green '70s, or even the carpeted '80s (we don't know why that was a trend, but it was).
But we're here to help. Whether you are figuring out a new bathroom layout, incorporating modern bathroom tile, or making a statement with a majestic tub—The Stylesmiths and this handy guide can help you through the process. Here is what our designers and renovation professional think you should know before you undertake a renovation.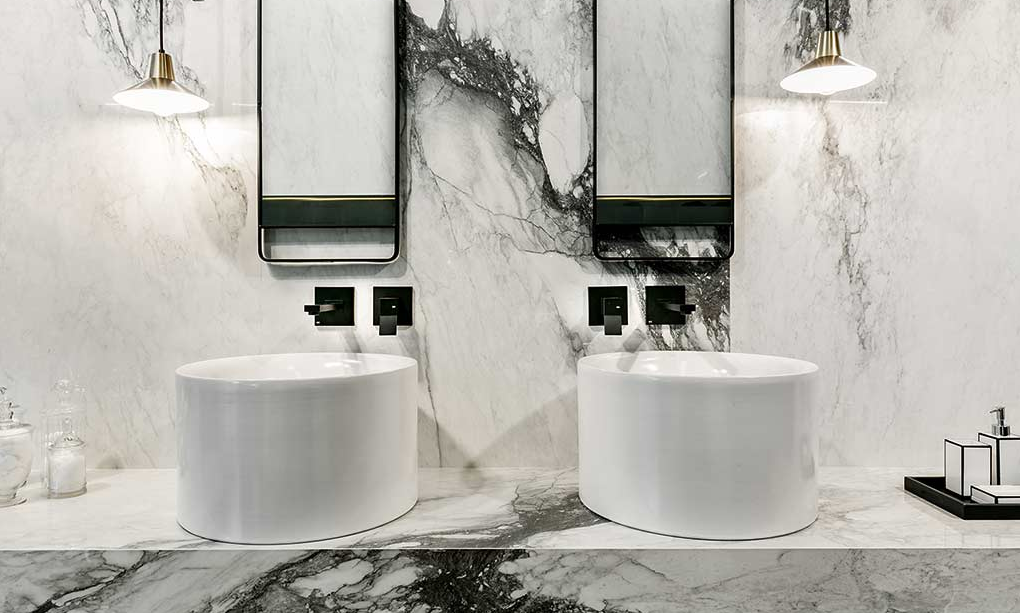 STARTING POINTS
We asked our renovation professionals and designers what they wish clients understood before they started a bathroom makeover and, across the board, the answer was budget. Our professionals stressed the importance of understanding how much you are willing to spend and what your priorities for spending were.
"Have a realistic budget in mind," recommends The Stylesmiths creative director Richard Misso. "Thinking you can remodel a full bathroom without the right budget in mind is just a disaster waiting to happen."
Similar to our kitchen renovation advice, before you start tearing out walls or ordering custom fixtures, think about how you and everyone else in your home will use the bathroom. How large is your space? Is it yours or yours and your partner's? Its primary needs (and any limitations) will dictate how it's designed.
"I think it's so important for clients to think about how they function in their current bathroom, and what ways a bathroom renovation can improve their lives," says Richard. "I always recommend clients to first create a 'priority' wish list and a 'dream' wish list. From practical design like storage and space, to the dream elements like their coveted walk-in shower, the design of their renovated bath should not only be beautiful but also functional for their lifestyles."
Here, it's wise to indulge in a little inspiration. Make your wish list of what's important, say graphic cement tile or heated floors, or single handle faucets, before you talk to your designer or trades.
SET YOUR SCOPE
Once you have an idea of what you want, it's time to figure out how to get there. Sometimes you don't need an actual "renovation" so much as the strategic swapping of fixtures and such. Adding details like art, new lighting fixtures, or even a new paint colour can feel like a major facelift. Here's where it helps to have a professional on board.
"Nobody can help a client envision what their bathroom will look like finished better than a professional designer (a Stylemisths designer of course!)," says Richard. "This not only helps you have a clearer picture of what you want, but also allows the builder / trades to provide a complete itemised quote based on that design without having 'change orders' along the way."
Decisions like tearing down walls, rearranging plumbing, and adding new flooring require the right team. And the longer those decisions take the longer your renovation will stretch. While most of our designers estimated a timeline of between 4-12 weeks, they warned that it all depends on each decision you make and product availability.
"Each bathroom renovation is very project specific," explains Richard. "The short answer is it could take anywhere from four to eight weeks after the design has been finalised and all finishes, fixtures, and accessories have been ordered and are either en route or on-site. The design phase length also depends on the client's decision making. Once the design is locked in, ordering finishes, fixtures, and accessories can take time too, depending on where they're sourced from. If there's custom tile coming on a ship from overseas, expect a longer lead time. If all the finishes and fixtures are in-stock, then construction can kick off. The construction schedule will be determined by the build team's schedule and stock."
All those moving pieces are why people say renovations have delays. This bears repeating, and our pros recommend padding your timeline out.
"People always miscalculate how time-consuming choosing finishes can be," explains Richard. "And when they finally start doing it they get overwhelmed with the number of options there are. Then sometimes, after they finally overcome all the options, they find out the one they chose is back ordered for eight weeks, and now the choosing process has to start all over again."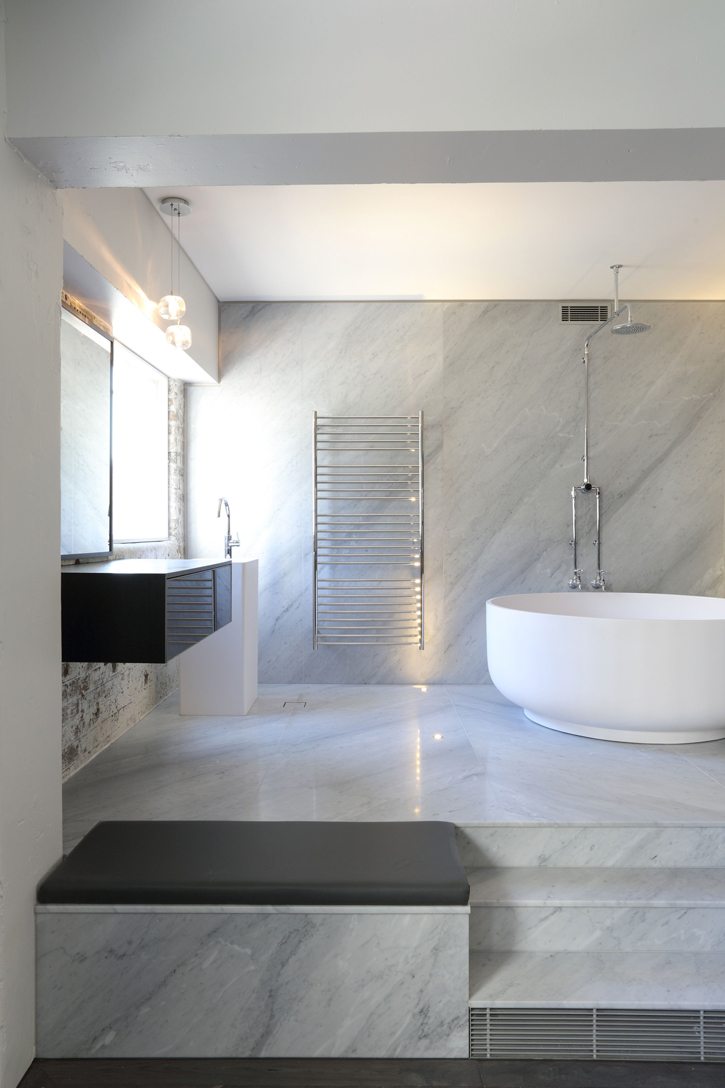 LAY IT OUT
Once you've settled on your budget and scope, you can start finding the right configuration for your space. You're in the bathroom every single day, and it has a relatively small square footage compared to the rest of your home. Maximising space with the proper layout is of the utmost importance. Think about what you find difficult in the current space, then reflect on bathrooms you've adored and try to identify what worked. Once you make a plan, we recommend you stick to it.
"Always try to consider what the finished bathroom will look like," says Richard. "You might have a beautiful tile you absolutely love, but nothing matches. Then you get into custom orders that could prolong the project. Hence it's always good to have a solid plan, that way if custom pieces are needed they can be ordered early and avoid delaying the project."
That also means thinking about your bathroom long-term. While you might have ideas you want now, our professionals stressed focusing on a redesign that you'll love for the long haul.
"The reality is we aren't updating our bathrooms every couple years so you have to find elements of trends that you think are timeless or in elements, patterns, and colours you won't get sick of in a couple of years," explains Richard. "Make meaningful changes to your bathroom—it needs to work for you, you need to love it."
THE NECESSITIES
Even the wildest bathrooms are grounded in the same components. Here's what you'll need to consider:
Vanity: Vanities and the sinks that accompany them come in a variety of specifications and styles, from highly customisable to off-the-shelf options that include a countertop and sink. Decide what you prize here—tons of storage or a slim footprint that will keep your bathroom feeling open and airy. While looks definitely matter, it's important to consider functionality.
"How much counter space a client uses can affect the purchase of their dream sink that happens to be larger than standard sinks. It's easy to overlook counter space usage but it's something clients can regret every day if they don't consider how important it is to their daily routines! We sometimes see clients not considering enough storage and outlets for amenities, like hair dryers, electric toothbrushes, razors, curlers, etc. Outlets are not the prettiest, so we always recommend placing some under the counter of a vanity in a vanity drawer, tucked away where clients can store and plug in their electronic devices and also keep cords conveniently out of sight."
Sink and Shower Fixtures: Bathroom fixtures don't have to be utilitarian—consider them additional design (and drama creating) element. The right finish, whether it be classic silver, glamorous gold, or even bold matte black can pack a punch.
Bathtubs: The bathtub is arguably the most luxurious part of the bathroom. Bathtubs essentially come down to a matter of space and budget, but there are myriad sizes, textures, and colours out there for you to choose from.
"Freestanding tubs have made a major comeback," Richard explains. "In addition to the clawfoot, there are also some beautiful modern versions as well, such as this Kreeo tub carved out of a single block of marble! If that is outside your budget, look for something in that shape but in porcelain or fiberglass.
With that, you'll decide if you want to have a separate shower or how you'd like your tub enclosed.
Toilets: You are forgiven if you haven't put a lot of thought and research into toilet brands—but our designers know how to paw through the many brands avaible find a pleasing seat.
TILE TIME
Due to the constant presence of moisture and temperature fluctuations in the bathroom, wood can be difficult. Instead, opt for durable choices such as tile, made from marble, ceramic, or even terra-cotta, encaustic, or concrete. When it comes to tile, there's so much more than subway.
When selecting tile, it's important to know that size matters,.When on a budget be aware that it's less expensive to install larger tiles then mosaics—so save the smaller tiles for a feature wall or smaller areas like the shower floor and or niche.
Here's a quick primer on your options:
Square: The most-common shape makes it simple to calculate how many you'll need. They come in a range of standard sizes, from 2" to 24". As a general rule of thumb, larger tiles make a small bathroom appear bigger (and, as noted, are less expensive to install). You can also use patterned options to trick the eye into believing square tiles are a mosaic.
Mosaic: As tiny as half an inch, these options add texture and, despite creating more grout lines, can nimbly be arranged around fixed fittings like sinks or tubs.
Rectangular and Subway: We know, you've seen it before. But this inexpensive option gets a new look when you stack, rather than bricklay the tiles. Bonus: it can also make a space feel taller and wider. "I'm loving the departure from the classic brick or running bond tile format," gushes Richard. "It feels very current, refreshing, and still timeless for the long run."
Hexagonal and Octagonal: These geometric options create a honeycomb pattern. Octagons are easy to spot—the tiles come with a small square so you can lay a perfectly snug pattern.
Anything else: Our designers also love non-standard shapes such as stars, basketweaves, arabesques, scallops, triangles, and more. The key is to make sure you select something with staying power. "Make sure you're in love with the tile, both pattern and colour," says Richard. "I always recommend tile that you'll love in five or 10 years. Tile (or design, for that matter) shouldn't be in fashion but a classic shape and neutral colour you can see yourself adoring for years to come."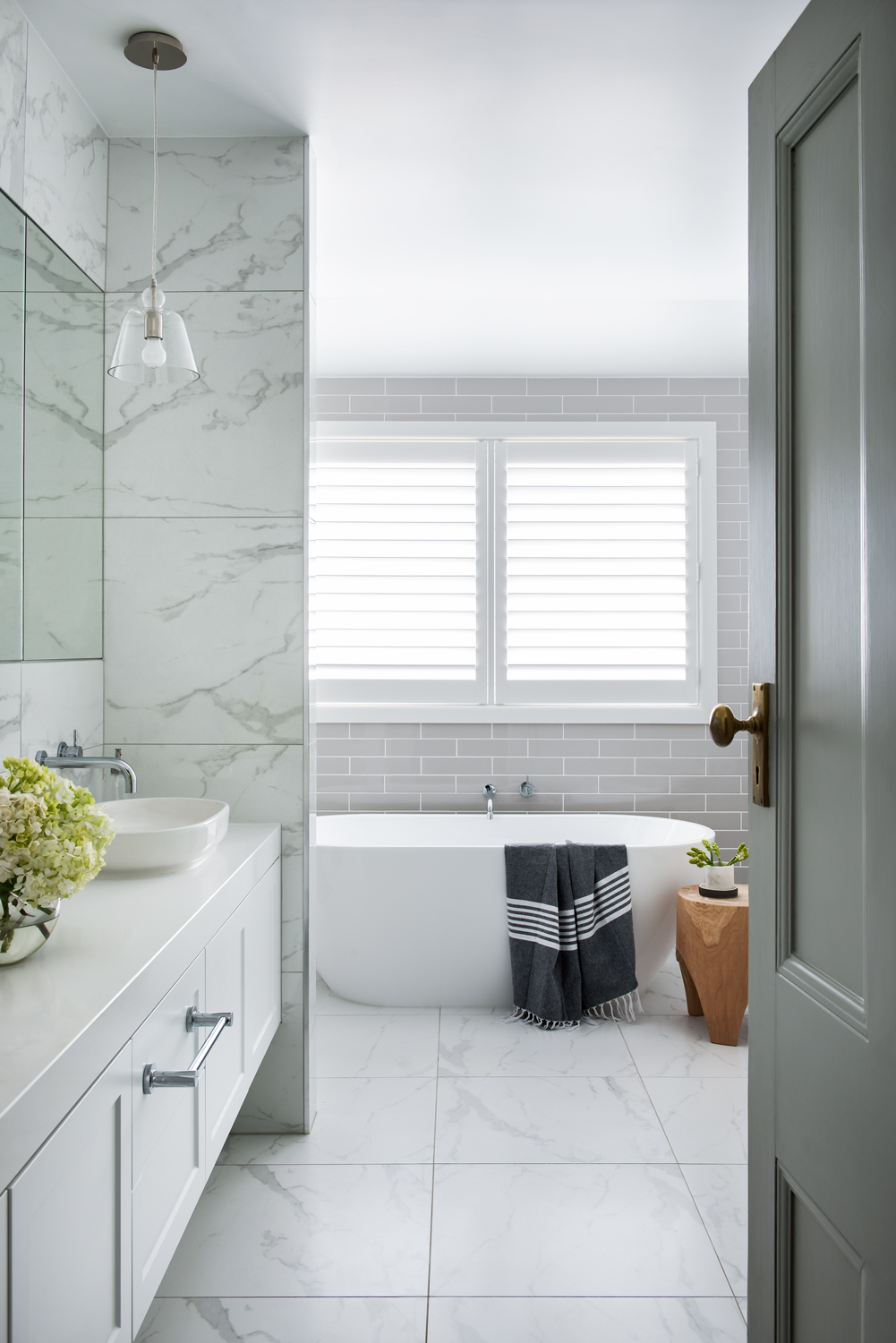 LET THERE BE LIGHT
Lighting is always important but it's one of the biggest concerns of the bath. The right lighting, like well-placed task options, ensure you're always looking your best.
It is meant to be functional and not just decorative . There is nothing worse than overhead lighting casting a ton of shadows on your face. Light on either side of the mirror works nicely, especially in combination with the ambient lighting.
Sconces illuminate the front of your face properly and adding additional recessed can lighting. If possible, aim to place your vanity near a natural light source (like a window), so you can adjust your hair and makeup appropriately. If natural light is not in the cards, incandescents or bulbs that mimic daylight work. You want a soft glow, not a sterile, clinical feel. The best thing you can do is provide yourself with a host of options.
If you're lucky enough to have a bathroom with a window, natural light is so refreshing—if possible, highlight and amplify its usage. If your bathroom doesn't have a window, I recommend both task lighting like recessed lighting with adjustable light temperature and on a dimmer, as well as ambient lighting like decorative sconces and/or flush mounts and pendants. That way you can customise your lighting based on your mood and needs.
The lighting plan needs to be decided up front while walls are open," stresses Richard. "The style of fixture also determines the height the lighting should be placed at, which is why decisions need to be made early."
No matter what you decide, you deserve a bathroom that makes you beautiful, and we're here to help— Our Stylesmiths designers are here to ensure you have a bathroom that looks good and functions beautifully.